17:00
Ukmerge cultural center (Kauno st. 8)
Concert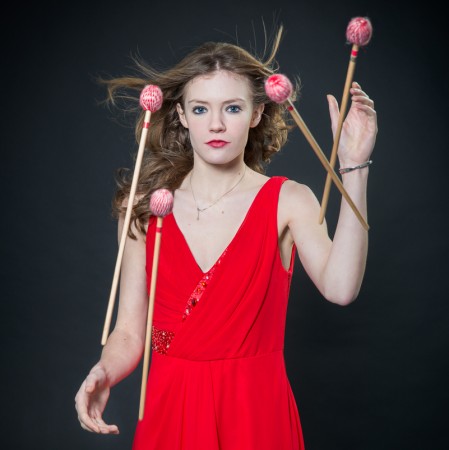 Adélaïde Ferrière is one of the most promising percussionists over the music world.
She has just been named « Instrumental Soloist of the Year » during the great french classical music award: « Les Victoires de La Musique Classique » (Equivalent of a Grammy Awards).
This ceremony has been brocasted « live » on the French Television from the Radio-France Auditorium.It was the first time ever, a percussionist has been nominated.
She also won the 1s Prize, Pierre Salvi Prize, Best contemporary intepretation Prize and the Public Prize of the "Concours International du FMAJI" in 2015, the 2nd Prize of the European Competition for Young Soloists in 2016, the 1st Prize of the "Concours International d'Interpétation de Boulogne-Billancourt", the "Annelie Prize" during the Tromp International Percussion Competition in the Netherlands, 2014 and the First Prize of the Grand Prize Virtuoso International Competition of Salzburg in 2017.
Born into a family of musicians,Adélaïde started learning the percussion in the class of Didier Ferrière. In 2012, the 15 year-old has been accepted unanimously at the Conservatoire National Supérieur de Musique de Paris in the class of Michel Cerutti where she graduated her Master Degree with unanimous congratulations of the jury in 2017 and has been accepted in the Artist Diploma programm. She also studied with Samuel Walton at the Royal College of London in 2016.
The young artist has performed as a soloist at « La Philharmonie de Paris », "La Cité de la Musique de Paris", L'auditorium de Radio-France, La Seine Musicale, in France, the Salzbourg Mozarteum, in the Muziekgebouw of Eindhoven (The Netherlands), the National Portrait Gallery of London, the Sala of São Paulo, Brasil, the Luxembourg Philharmonie… She has been interviewed and has played live many times on French Radio: France Musique, France Culture, France Inter…
Adélaïde has worked with many composers; Jean-Jacques Di-Tucci (World Premiere of « Corps Distants », for Solo Percussion and Percussion Ensemble), Thierry Escaich (World Premiere of the Oratorio « Cris »), Alexandre Ouzounoff (World Premiere of « Dzong » for Solo Percussion and orchestra), and « Raphsodie Monstre » by Alexandros Markeas recorded in the great Maison de la Radio in Paris during the last « Festival Présences ».
She is sponsored by Southern Percussion UK, Black Swamp Percussion USA and is going to present a new marimba mallets serie with Resta-Jay Percussions France.
Coming Soon in 2018 Concert Tour in Luxembourg, Lithuania, Greece, Malte, Italy, Swizertland.
Competitions
Laureate of the Adami Fondation
Laureate of the Safran Fondation
1st Prize Grand Prize Virtuoso Competition, Austria
Grammy Award, Soloist Revelation of the Year, Les Victoires de la Musique Classique
2nd Prize International Competition for Young Soloists, France
Public Prize, International Festival Musical d'Automne des Jeunes Interprètes
1st Prize, Special Prize, Best interpretation Prize, FMAJI International Competition, France
Annelie Prize, Prize of the Youth Jury, Tromp International Competition, The Netherlands
1st Prize, International Interpretation Competition, France
Concert Halls
Paris : Philharmonie de Paris, Auditorium de Radio-France, La cité de La Musique, La Seine Musicale, Salle Pleyel, Les Invalides, La Banque de France, Saint-Pierre de Montmartre, Archives Nationales, Petit Palais.
Europe
France : Concert tour in Dijon, La Ciotat, Beaulieu-Sur-Mer, Saint-Emilion, Bordeaux, Talcy,
Lille, Strasbourg, Marseille, Perpignan, Nantua, Mâcon ……
London : National Portrait Gallery, Royal College of Music
Luxembourg : Philharmonie
The Netherlands : Eindhoven Muziekgebouw
Austria : Salzbourg Mozarteum
Germany : Hoschüle Fur Musik, München
International
New York : The Juilliard School, Yamaha Artist Services
Brasil : Sala Sao Paulo, CEU Cidade Dutra
Radio (Live and interview)
France : Radio Classique, France Musique, France Culture, France Inter
Orchestras
Soloist with, Paris National Opera, Lithuanian Chamber Orchestra, Pasdeloup Orchestra, Lutétia Orchestra, Demos Orchestra, Dijon Bourgogne Orchestra, La Symphonie de Poche, Les Bagatelles, Orchestre de la Garde Républicaine, Occitania Chamber Orchestra, Orchestre de la RATP, EHMOD Orchestra, Paris Percussion Group, Paris Conservatory Orchestra.
Coming Soon in 2018
Concert Tour in Luxembourg, Lithuania, Greece, Malte, Italy, Swizertland.