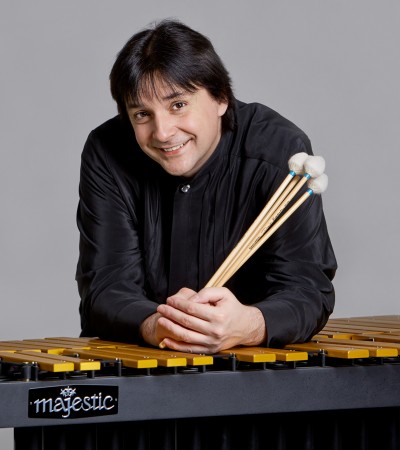 Andrei Pushkarev was born to a family of musicians in Kiev in 1974. At the age of five, his musical education began with the piano. In 1980 he entered the Kiev Special Music School.
From a young age, Andrei delighted in music and by age 14, his concentration shifted to percussion instruments.
In 1992 Andrei Pushkarev became a student of Kiev Tshaikovsky National Conservatory, where he continued his professional development with Professor Alexander Blinov.
During his studies at the Conservatory, Andrei began to create his own works including his own compositions for vibraphone solo. Andrei continued to study orchestral percussion, but the vibraphone had captured his soul. The vibraphone became much more than a favorite instrument to Andrei. The vibraphone, a true solo instrument, was capable of transporting listeners to a world filled with new thrilling sounds and colors
In 1995, the newly established "New Names of Ukraine" competition awarded Andrei First Prize as solo vibraphonist. Andrei performed his own musical compositions at the award ceremony.
Between 1995 -1999 Andrei performed as a solo vibraphonist with many chamber ensembles throughout Ukraine.
During this time, Andrei achieved another major milestone in his career. In 1996, he was selected to become the main timpanist for the Kiev Philharmonic Orchestra. At the age of 22, he became the youngest main timpanist of the symphonic orchestra in Ukraine.
Starting in 1999, his musical career escalated to a new level. Andrei Pushkarev joined the chamber orchestra, Kremerata Baltica, which he still is a member.
World-famous violinist Gidon Kremer created this orchestra in 1997. Since 1999, Andrei serves as percussionist of Kremerata Baltica and has participated in concerts around the world. Additionally, he participated in numerous recordings as a member of the ensemble on labels such as Nonesuch, Deutsche Grammophon.ECM etc. As a soloist he can be heard on the CD release "After Mozart" which received a Grammy Award in 2001 in the U.S. as well as the Echo Award in 2002 in Germany.
In the summer of 1999, he performed for the first time at the Kammermusikfest Lockenhaus (Austria) and became a regular participant of this festival.
In the following years, Pushkarev performed many compositions as solo vibraphonist at the Kammermusikfest Lockenhaus – along with arrangements of Astor Piazzolla, Richard Rogers, Peter Tchaikovsky, etc.
Since then, he has made many arrangements for the vibraphone and violin solo with and without chamber orchestra. Together with Gidon Kremer and Kremerata Baltica he toured around the world, performing in numerous concert halls all around the world, including Carnegie Hall in New York, Albert Hall in London, the Musikverein and Konzerthaus in Vienna, Concertgebouw in Amsterdam and so on.
In Lockenhaus, the idea to create a solo vibraphone project was born. Gidon Kremer proposed the idea of making jazz arrangements using 15 two-voice inventions by J. S. Bach. Andrei Pushkarev developed the idea. So each creation was written in the style of different jazz pianists (Oscar Peterson, Dave Brubeck, Chick Corea, etc.).
In spring 2004, Andrei Pushkarev performed this project "Bach Vibrations" for the first time in Basel (Switzerland) at the Gidon Kremer's "Les Museiques" festival.
The same year he recorded the cycle. This CD, released by the Austrian "Gramola" label was recently mentioned by the Deutsche Schallplattenkritik Bestenliste, as one of the discoveries of the year.
In summer 2005, Andrei presented the "Bach Vibrations" project as a solo recital at the Verbier Music Festival (Switzerland).
Since 2009 Andrei Pushkarev has regularly given Master-classes all around the world (South America, Europe and Australia). He has served as a judge in numerous International percussion competitions such as TROMP percussion competition (Holland, 2010) and International PAS Competition (Italy, 2011 and 2012).
Since 2013 Andrei Pushkarev is endorser and the official performer of "Majestic Percussion" and "Innovative Percussion."
Meanwhile, Andrei composes many arrangements for orchestras and different chamber squads featuring world famous musicians. Furthermore, he creates his own works.