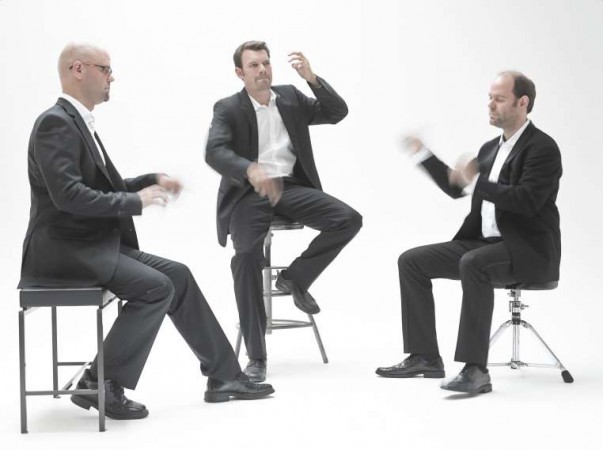 Michael Arbenz (piano)
Thomas Lähns (bass)
Florian Arbenz (drums)
Everybody who loves jazz anxiously awaits the moment when a jazz trio parts with tradition. As crucial the genetic reference may be, as unique and multifaceted the space for the new opens. This reference is the thrilling and exciting thing about Vein: the introduction of quotes is as clever as it is cool, and well considered. The foundation doesn't just coin, it inspires. Feeling the pulse of the three musicians we realise that there are more musical styles throbbing through their veins. From classical to electronic. This blend flows freely through all three auditory sources, without losing their contiguity. In between there's a lot of blood and an abundance of oxygen. The trio's idea to interweave different influences and juxtapose it with jazz tallies. Vein conveys the music right in to the heart.
Michael Arbenz has been active as leader of various bands during the last couple of years. They gave concerts throughout Europe and recorded several CDs. Internationally renowned musicians such as Greg Osby, Wolfgang Puschnig, Glenn Ferris, Muneer B. Fennell, Dave Liebman, Matthieu Michel and Marc Johnson joined his activities. He also gave classical concerts with Pierre Boulez, Paul Sacher, Jürg Wyttenbach, the Ensemble Contrechamps and Hans Zehnder, just to name a few.
At the age of thirteen, Thomas Lähns came to Tibor Elekes as his bass student. In 2001 he started to study the double bass at the Music Academy of Basle under Wolfgang Güttler and Botond Kostyak. In 2005 he completed his bachelor and 2008 his master of performance. In jazz he has played with well-known musicians such as Greg Osby, Glenn Ferris or Dave Liebman, in classics he has worked under notable conductors such as Heinz Hollinger or Peter Eötvös.
Florian Arbenz has been doing tours, concerts and CD-productions as lead with, Kirk Lightsey, Greg Osby, Glenn Ferris, Dave Liebman, Bennie Maupin and others. In classical music he has worked as percussionist in numerous concerts and festivals (Luzerner Festspiele, Basler Musik Forum, Schleswig-Holstein Musik Festival), among others with Heinz Holliger, Kent Nagano and Paul Sacher. Further, he staged in solo concerts in Europe and South America. In 2000 Florian Arbenz received the European Award of Culture (supporting his engagement in jazz and classical music).