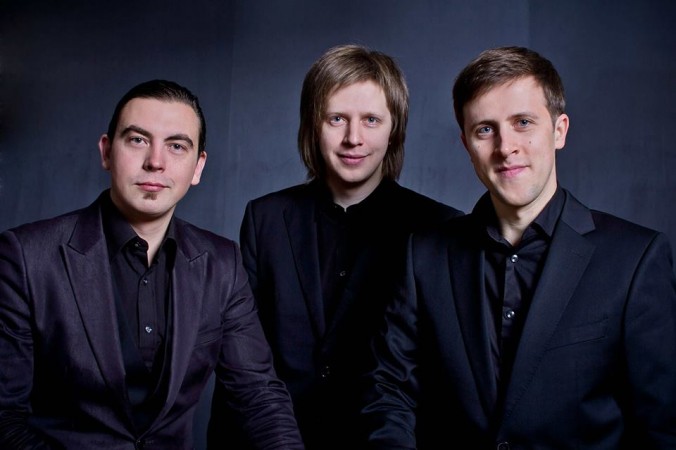 Rihards Zaļupe (marimba/ percussion), Oskars Petrauskis (saxophone), Raimonds Petrauskis (piano)
Xylem TRIO was established in year 2006 when the three internationally recognized musicians Oskars Petrauskis, Raimonds Petrauskis and Rihards Zalupe came together. Each of them confirmed themselves as soloist and serious chamber musician. The main idea of the Trio is to combine together piano, saxophone and marimba/ percussion. It is not an ordinary ensemble and there is not so much repertoire written for that kind of instrumental composition. Xylem TRIO performs very wide spectrum of music as original work's modern arrangements from classics (J.S. Bach, G.F. Handel etc.) to folk songs, jazz and contemporary movie music, where the arrangers are the musicians themselves, putting together world, jazz and academic music elements. Xylem TRIO also plays contemporary composers original music specially written for them.
Xylem Trio plays very active in throughout the Latvia including all biggest concert halls and collaborates with concert organization Latvijas Koncerti, National Radio and Television. Also the Trio has played in Three Star Order presentation ceremony and in foreign countries as well.
The first recorded album Christmas Letter (made together with composer Raimnods Tigulis) received Latvian Music Records Award 2009 in the category Best instrumental, film or theatre album of the year.
On 2010 Xylem TRIO recorded album "In The Mood Of Giya Kancheli" which received Latvian Music Records Award 2010 in the category Best instrumental, film or theatre album and Best Debut.
Oskars Petrauskis (1981) /saxophone/ has finished Universität der Künste Berlin and his Master degree at the J.Vitols Latvian Music Academie with profesor Artis Simanis. Oskars has won many international competitions in Latvia, Estonia, Germany, Italy, Slovenia. In year 2007, together with his brother Raimonds he got first prize in Yamaha SaxContest 2007. Oskars also got grants to France and Germany and famous Henry Selmer stimulated Tremplin jeunes scholarship
Raimonds Petrauskis (1979) /piano/ has graduated Jazeps Vitols Latvian Academy of Music, class of Professor Juris Kalnciems, obtaining Bachelor's and Master's degree in. Latvian pianist has also refined his professional skills at the Hamburg Academy of Music and Theater, piano class of Professor Volker Banfield and at the Guildhall School of Music and Drama in London, piano class of Professor Ronan O'Hora and jazz piano class of Professor Simon Purcell. R. Petrauskis has won prizes at several international piano competitions: 2nd prize at the International piano competition in Rome, 1st prize at the International Nikolay Rubinstein piano competition in Paris, 3rd prize at the International Val Tidone piano competition in Milan.
Rihards Zalupe (1983) /marimba/percussion/ finished his Master degree at the J.Vitols Latvian Music Academy with assoc.prof. E.Saksons. Also he was Socrates Erasmus student at the Hochschule for Musik Cologne with professor Carlos Tarcha. Rihards Zalupe studied marimba`s playing and composition with world-famous Keiko Abe, also participated in the International Katarzyna Mycka marimba masterclasses with Katarzyna Mycka, Robert Van Sice, Eric Sammut. Since 2006 R. Zalupe has been a percussionist in the Latvian National Symphony Orchestra, also as a lecturer in the J.Vitols Latvian Music Academy. Percussionist performed solo with Latvian National Symphony Orchestra, State Chamber Orchestra "Sinfonietta Rīga", Professional Brass Band "Rīga", orchestra "Sinfonia Concertante", Vidzeme`s Chamber Orchestra. In 2008 R.Zalupe recorded his first CD "Marimba Dance", in album are heard his compositions for marimba solo, marimba and piano, as well as for choir. R.Zaļupe and the album "Marimba Dance" received the Latvian Music Records Award 2008 in the category "The debut of the year".